Going back to school during a pandemic has produced a lot of challenges and stress for kids today.  This week for our Black Mental Health Tips & Tools Campaign, we're looking at how COVID is affecting our youth.
As September draws near, don't be surprised if the young people in your life begin experiencing heightened negative emotions. 
This is a time of great uncertainty: the return to school during the COVID pandemic. 
Despite all the precautions and guidelines from public health experts to make in-person learning safe, the return to school is a challenging dynamic. 
Not simply because of the seriousness of community spread and threat of a second wave, but because of the stress and anxiety evoked by having to move around an infectious world, the uncertainty of the new way to "do school", and the fear of whether things will ever be the same.  
While some young people are itching to catch up with their social lives, others will be plagued with the stress and anxiety of returning to school amidst a pandemic.
We must consider this daunting reality: Since the beginning of the shutdown in March of 2020, young people have missed out on live teacher instruction as well as essential school-based support services.  
Many have gone without academic remediation, speech and language therapy, occupational therapy, and mental health counseling for months. 
So the "summer slide" for 2020 is real! The normal setback in academic functioning that youth experience while on summer break will be exacerbated by the pandemic.  
Young people with various limitations may have unprecedented amounts of worry related to keeping up with their peers once school resumes. 
Parents and other adults in the "village" are in a unique position to support young people through these many sources of heightened anxiety.
Here are 6 Tips on How Adults Can Prepare Their Kids for the Return to School During COVID:
1. Model Resilience. Every stream has a source. Our young people can be resilient if we are resilient. Openly talk with young people about some of your own COVID-related worries or fears rather than trying to hide them, and share strategies and successes in your attempts to overcome them.
2. Empathic Listening. Focus on creating a space for your youngster's open and honest expression of feelings, versus trying to provide answers when there aren't any, minimizing their feelings, or rushing in to make them feel better. For young children who have a harder time articulating their feelings, learn to read their actions and respond with more compassion (versus discipline) if acting out behavior increases during these times.
3. Tolerating Uncertainty. Our job as adults is not to provide certainty in a time of uncertainty, but to help youth tolerate the uncertainty. For Black youth, consider using historic lessons of their ancestors' resilience and remind them that they are living proof of it.
4."Love-Up" on Youth. An extra dose of love and affection can help young people cope in times of stress and anxiety. Create rituals for quality time and lean-in on relationship building activities.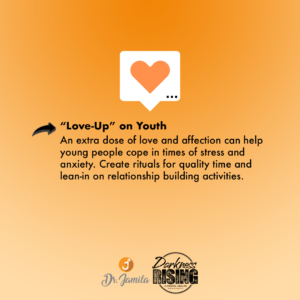 5. Safe Social Engagement. Young people, especially, need social interaction. They haven't learned how to navigate the world by themselves or even how to be with one's self in a state of peace and joy. Create opportunities for safe social engagement (e.g., engaging in small groups outdoors) rather than simply focusing on social distancing to support optimal functioning during their return to school. 
6. Spiritual Toolbox. This is a defining moment in history that requires a greater set of coping skills. Young people can use it as an opportunity to cultivate spiritual resources which can help create peace and calm if the return to school is anxiety provoking. Help young people engage in prayer rituals, affirmations (e.g. "this too shall pass"), meditation (kids apps are great!), and other powerful practices for the creation of a "spiritual toolbox."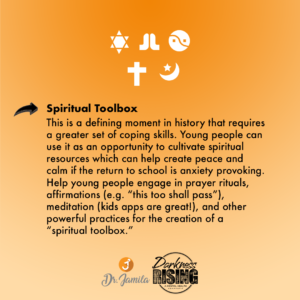 Created for Darkness RISING's Black Mental Health Tips & Tools Campaign by Dr. Jamila Codrington. See more tips & tools here or by searching #DRresources on Instagram.
Dr. Jamila is a New York state-licensed psychologist with over 15 years of experience.  She inspires, educates, transforms, and empowers through psychotherapy, clinical supervision, trainings, workshops, community forums, and consultations. Learn more: Drjamila.com 
*This does not serve as a replacement for therapy.*