Ever wonder if racism can make you sick? Not physically sick, but psychologically sick?
The answer is YES! 
"Racial Trauma" is a real phenomenon that has historically plagued the Black community in this country and wreaked havoc over the last few months since the police killing of George Floyd and rise in racial injustices and civil unrest.
Racial trauma is a form of race-based stress experienced by People of Color and Indigenous individuals. It refers to their psychological reactions to dangerous events and experiences of racial discrimination – both real and perceived. What causes racial trauma?
You don't have to be a direct victim of police brutality, hate crimes, or other forms of racism (personal or systematic) to experience racial trauma. Exposure to the violent images and videos of police brutality against the Black community on the news and social media can cause one to experience racial trauma indirectly.
Black individuals tend to identify with these victims (even though they don't know them personally), given their understanding that the same thing could happen to them or their friends/family. In turn, they experience "vicarious" or "secondary" racial trauma from witnessing it on screens.
While cell phones provide us with increased opportunity to hold police accountable for their violent and deadly actions, there is a heavy price to pay.
Graphic, violent images and videos that are viewed repeatedly on T.V. and/or social media can have negative effects on mental health, especially for Blacks who are the greatest targets. So, we must educate ourselves about this type of vicarious traumatization and look out for warning signs.
Symptoms of racial trauma include:
anxiety

fear

suspiciousness

nightmares

flashbacks

hypervigilance

hyper-startled reactions ("jumpiness")

avoidance, anger/rage

irritability

sleep disturbance

eating disturbance

body aches, and

depressed mood.
While similar to PTSD (Post Traumatic Stress Disorder), racial trauma is different, as the ongoing exposure to race-based stress can also cause hidden wounds, such as internalized devaluation, low self- esteem, and feelings of humiliation, shame, and guilt.  
Here are some tips on how to reduce the risk of experiencing racial trauma in these challenging times: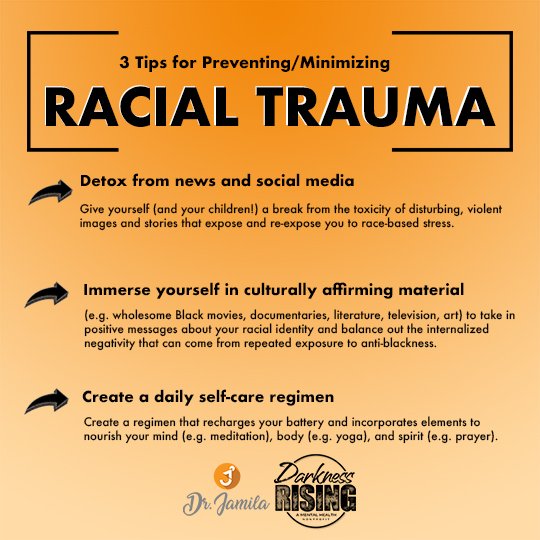 Detox from news and social media – give yourself (and your children!) a break from the toxicity of disturbing, violent images and stories that expose and re-expose you to race-based stress.

Immerse yourself in culturally affirming material (e.g. wholesome Black movies, documentaries, literature, television, art) to take in positive messages about your racial identity and balance out the internalized negativity that can come from repeated exposure to anti-blackness.

Create safe spaces to release and share the range of emotions that come with "living while Black" so that there's a healthy/productive discharge with those that understand and won't judge you.

Create a daily self-care regimen that recharges your battery and incorporates elements to nourish your mind (e.g. meditation), body (e.g. yoga), and spirit (e.g. prayer).

Take a mental health day if you find that it's difficult to go to work with White colleagues who may not understand what you're experiencing or who may be triggering to you.

Enroll in therapy with a culturally competent mental health professional to help you process and cope with race-based stress. You don't have to be "crazy" to be in therapy!
Created for Darkness RISING's Black Mental Health Tips & Tools Campaign by Dr. Jamila Codrington. See more tips & tools here or by searching #DRresources on Instagram.
Dr. Jamila is a New York state-licensed psychologist with over 15 years of experience.  She inspires, educates, transforms, and empowers through psychotherapy, clinical supervision, trainings, workshops, community forums, and consultations. Learn more: Drjamila.com 
*This does not serve as a replacement for therapy.*