For the past few months, we've seen protest after protest calling for systemic changes in the wake of George Floyd's murder. There's been a lot less media coverage lately, but the protests are still happening. His murder was the match that ignited a racial tinder, but to be honest, this type of violence against Black people is nothing new. We're still fighting for Breonna Taylor, and this week we almost lost James Blake —  the list of names keeps growing. 
Being a Black person in America means you deal with the constant trauma of racism and social injustices, both indirectly and directly on a daily basis. I. AM. TIRED. 
Everything in me wants to hit the streets and protest, but to keep it real –  my anxiety won't let me. Do ya'll know how hard it's been to tell friend after friend that I can't go to the Commitment March because I'm in a constant fight with generalized anxiety disorder? 
Every time I get on social media and see another Black person being murdered or another hashtag trending, my chest gets tight and it feels like I can't breathe. Added to that, COVID-19 is far from over and I. AM. STRESSED.  
It feels like a lot, because it is. 
Still – I recognize my privilege: I have a therapist who I see regularly, which helps me cope with anxiety, depression and PTSD. But the reality for most Black people living in the US is quite different. 
With statistics which show that African Americans are 1.5 times more likely to be uninsured than White people, it's easy to see how access to mental health services is often unavailable for our community. 
We need options, ya'll. 
5 WAYS TO DEAL WITH YOUR ANXIETY DURING A PANDEMIC AND SOCIAL UPRISING
1. Relaxing Activities
I know what you're thinking – "Coloring is for kids." But nah. Coloring can be so relaxing! 
Earlier this year we hosted an Adult Coloring Book Night and I didn't know how much I needed it!  I'm looking forward to when we're able to gather in groups again so we can have another one! 
For now, try using apps like Color Therapy, Colorfy and Coloring Book. Let me know which one is your fave! 
2. Deep Breathing Techniques
I often find myself holding my breath while watching the news and scrolling through social media. Take a step back and practice deep breathing exercises to center yourself and clear your mind.  
3. Journaling
Journaling can help you recognize negative thought patterns. For me,  these negative thoughts often lead to anxiety attacks. I love journaling and using workbooks to work on shifting my perspective.
4. Get an Emotional Support Animal
Ya'll already know that my Emotional Support Animal, Snow, has changed my life! I'm incredibly grateful to be quarantined with my best friend. You can read about my journey to finding Snow in this blog post.  
5. Connect With Nature
Stop the scroll. I know it's hard, but take some time away from social media and the news. 
A few hours a day, digitally tune out and physically tune into the outdoors.. Go for a walk (with a mask and 6 feet apart, of course) and connect with nature.  
HOW TO PROTEST WHEN YOU FEEL LIKE YOU CAN'T
It's important to realize that not everyone will be able to contribute in exactly the same way – and that's okay. Some are able to gather in crowds and protest while some of us use our talents and energy in other ways – we're still serving the same purpose. 
There is no "right" or "wrong" way to be a part of this movement.
Make Calls, Send Emails & Sign Petitions
Calls and petitions show the people in positions of authority that we're playing no games when it comes to seeking justice!  If physical protests aren't for you, set aside some weekly time to make calls, send emails and sign petitions. Here's a list to get you started:
Blacklivesmatters.carrd.co Petitions, orgs to donate to, resources
https://bailfunds.github.io/ Community resources for protestors around the country
bailproject.org/  Combats incarceration rates through bail reform
communityjusticeexchange.org/nbfn-directory Directory of community bail funds
lgbtqfund.org/  Bail fund providing relief to jailed LGBTQ people
Engage and Educate on Social Media 
Ok, clearly I just advised you to get off of social media, but if you've centered yourself and feel like you're ready, there's nothing wrong with using your voice in a good (but non-performative) way. 
Since I can't go out and protest in big crowds because of anxiety, using Darkness RISING as a platform to educate, heal, and connect has been vital. Learning about racial justice is key. If you're White or a non-Black POC seeking resources, check these out. 
Contribute Financially
There are organizations throughout the US to help protesters with bail money and/or legal aid. 
If you're able to give financially, every little bit helps. Please, please, please take your time and do your due diligence to make sure that the organization that you are giving your money to is in fact a legit organization. Feel free to add Darkness RISING to your donation list and give here. 
You Got This!
I'm ready for a PRECEDENTED time, truly. But we're in it, and we're doing what we have to do to create change for future generations.
If you are invested in the fight for justice, but anxiety or other mental health issues keep you away from public protests, you're not alone. Your fight (from home) is not in vain. Keep going. We need you. 
Remember, Darkness RISING provides a Black Mental Health Provider Database and a Black mental health resource packet full of providers, databases, advocates, apps, podcasts and more. Get on our list and get your free copy now! 
Also, be sure to check out our Tip & Tools for Preventing/Minimizing Racial Trauma from our partnership with Dr. Jamila.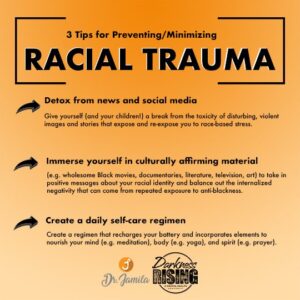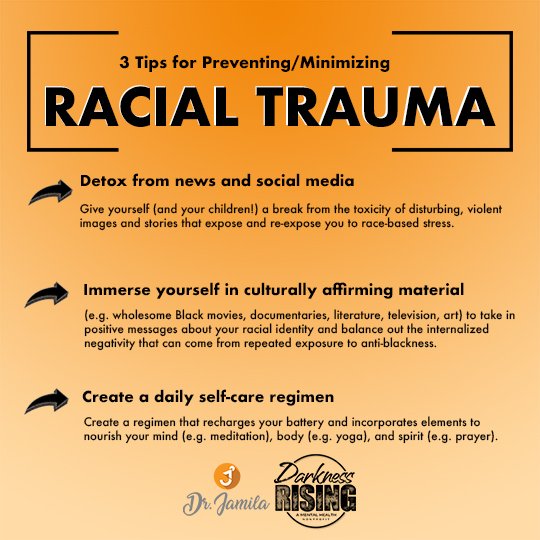 Thank you for being an important part of this fight. Let's keep it going.
Photo by Bach Nguyen on Unsplash