Have you ever wondered "Why is my partner emotionally distant or disinterested in love making, although they're attracted to me and say they love me?" 
Or, "Why is this person so withdrawn, defensive, or aggressive towards me, seemingly for no reason?"
One strong possibility is that they are a survivor of interpersonal trauma. 
Interpersonal trauma (such as early childhood abuse by a caregiver or sexual abuse by a romantic partner) occurs in the context of a relationship and may lead to a loss of intimacy or an inability to have a genuine connection as a result of a painful experience with an attachment figure from the past.
For survivors, basic communication can be difficult due to hypersensitivity from feeling a loss of control. There may be certain facial expressions, tones of voice, or postures that remind them of their perpetrator, even if they are well-intentioned. 
Because the nervous system is powerful enough to trick survivors into thinking the traumatic event is happening in the present moment, they may go into survival mode and become defensive or aggressive.
Here are 5 tips on what to do and what not to do in a relationship with a survivor of interpersonal trauma:
1. Ask for permission to touch certain parts of the body (e.g. may I hug you?) before proceeding.
2. Give opportunities for them to take the lead and make choices, even over the little things in life.
3. Ask what is needed for you to earn trust in their lives.
4. Ask what feels like a comfortable physical distance when speaking or sitting down together. 
5. Reassure your partner of your intentions to ensure that they feel safe and can trust you.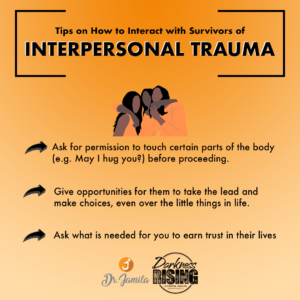 Created for Darkness RISING's Black Mental Health Tips & Tools Campaign by Dr. Jamila Codrington. See more tips & tools here or by searching #DRresources on Instagram.
Dr. Jamila is a New York state-licensed psychologist with over 15 years of experience.  She inspires, educates, transforms, and empowers through psychotherapy, clinical supervision, trainings, workshops, community forums, and consultations. Learn more: Drjamila.com 
*This does not serve as a replacement for therapy.*
Have these tips and tools been helpful for you and your family? Let us know:
JOIN THE CONVERSATION
Follow us on IG: @darknessrisingproject
Like us on Facebook: @darknessrisingproject
Follow us on Twitter: @DarkRiseProject